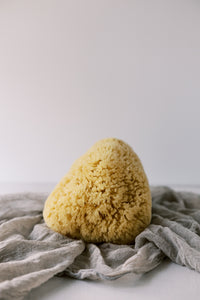 Stimulate the lymphatic system by using the sea sponge to dry brush the body prior to your shower, sauna session or upon rising in the AM. Dry brushing is done by starting from the feet/ankles and moving up in circular motion towards the heart. On the arms - start with the hands/wrists and again in circular motions work your way towards the heart. This helps to stimulate a stagnant lymphatic system, moving the blood towards the heart increasing oxygen flow.
While showering, add a few pumps of the organic body wash or organic soap bar and use to exfoliate the body, scrubbing away dirt and impurities. This combination may help to cleanse the skin deeper than surface level and allow all of the minerals and nutrients from the soaps to penetrate deep into the skin.
BI-WEEKLY CLEANING
Soak in a warm bath of baking soda and distilled water for 10 minutes. Rinse with distilled water and let air dry. This should be done every other week or at LEAST once a month to keep your sponge free of bacteria.
When you feel like your sea sponge has had its run, repurpose it by washing your vehicle with your sponge!
7 inches