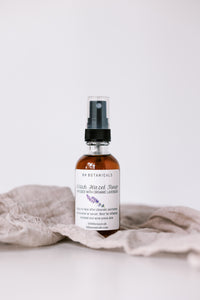 Great for use on oily and acne prone skin, may be beneficial for inflamed and irritated skin. The astringent properties of witch hazel which may help to tighten skin and pores making them appear smaller.
Uses - Apply to skin after cleanser and before moisturizer or serum. This may cleanse the skin of excess oils, calm the skin and help absorb the following products. Without a toner your skin is not absorbing as much hydration as it could!
Ingredients: Organic Witch Hazel, Organic Lavender, Organic Cane Alcohol (<14%)
2oz
*This is not medical advice. This information is not meant to diagnose, cure or replace medical advice. Use at your own discretion or at the recommendation of your healthcare practitioner. All rights reserved UCC 1-308.