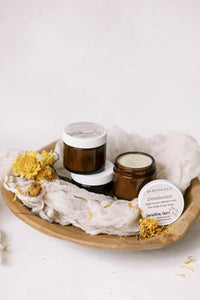 Its FINALLY BACK and better than ever! Our organic deodorant made with the highest quality ingredients to help you stay fresh all day long. Our blend is not only aluminum free but also baking soda free in all of the scent options. Baking soda can be irritating to many when used on the under arms, for this reason we do not incorporate it.
If you are new to using aluminum free natural deodorant make sure to detox your armpits at least once every two weeks. Every week would be best. Do this with my detox mask found under the face section.
Ingredients: Organic Coconut Oil, Organic Shea Butter, Organic Calendula Oil, Organic Sweet Almond Oil, Kaolin Clay, Bentonite Clay, Magnesium Chloride, Non GMO Arrowroot, Carnauba Wax, Organic Blend of Essential Oils
Scent Options - 
Lavender - Organic Lavender
Orange Bergamot - Organic Sweet Orange, Organic Bergamot
Fresh Spring - Organic Lemongrass, Organic Eucalyptus, Organic Rosemary
Sensitive Skin - Unscented, Nothing!
2oz
*This is not medical advice. This information is not meant to diagnose, cure or replace medical advice. Use at your own discretion or at the recommendation of your healthcare practitioner. All rights reserved UCC 1-308.