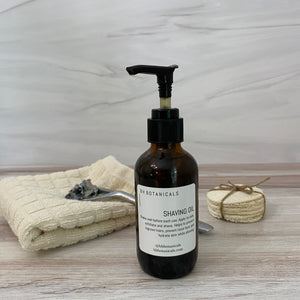 A shaving oil like no other you've ever used before! Our shaving oil was created off of the need for our shaving scrub to be more stable during the summer months and still have all of the amazing benefits.
This product is good for exfoliating while shave reducing time it takes to shave and helping to prevent ingrown hairs and reduce irritation.
HOW TO USE: Shake well then pump onto skin. Apply in a circular motion to exfoliate then shave. Wash away with warm water. Be mindful not to fully wash or wipe away oils from the skin as they help to keep a healthy hydrated barrier between you and the environment.

Ingredients: Organic Tamanu, Wild Harvested Carrot Seed Oil, Organic Meadowfoam Seed Oil, Organic Marula Oil, Organic Red Raspberry, Wild Harvested Jojoba Oil, Organic Argan Oil, Organic Sweet Almond Oil, Organic Jojoba Meal, Chamomile, Organic Lavender, Wild Harvested Blue Tansy

4oz
*This is not medical advice. This information is not meant to diagnose, cure or replace medical advice. Use at your own discretion or at the recommendation of your healthcare practitioner. All rights reserved UCC 1-308.