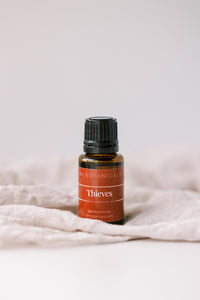 A powerful blend of warm spicy notes and refreshing burst of citrus and greens. This blend helps to support immunity and contains cleansing properties beneficial for house hold cleaning.
Use by diffusing in your home, add to your laundry soap, hand soap or homemade all purpose cleaner. Avoid diffusing around pets. Always allow pets the ability to leave the room where essential oils are diffusing.
Ingredients: Eucalyptus*, Rosemary*, Clove Bud*, Lemon*, Cinnamon*.
15ml - 300 drops
*Best stored away from light and heat. If stored properly, essential oils will maintain their maximum beneficial properties for many years, with a minimum 5 year shelf life.
This is not medical advice. This information is not meant to diagnose, cure or replace medical advice. Use at your own discretion or at the recommendation of your healthcare practitioner. All rights reserved UCC 1-308.