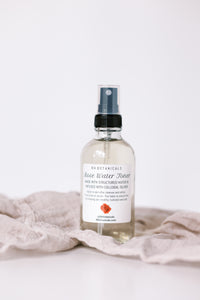 Our Rose Water Toner is now ORGANIC! It is distilled with organic rose petals and rose buds to create the rose water we all know and love.
Rose water is soothing to the skin and may help to absorb moisture to hydrate your skin. It is very beneficial for those with oily and acne prone skin as well. Remember, applying drying agents to the skin does not help to reduce the amount of oil your body produces. 

Formulated with structured water this rose water is like no other! Structured water is water that has been magnetized by organic metals to raise the frequency making it better for your skin.
BENEFITS OF OUR COATED COLLOIDAL SILVER
*SILVER IS NOT A HEAVY METAL - It is a precious metal. OUR SILVER does not build up and cause toxicity to the body. Most colloidal silvers on the market can cause antibiotic like resistance and build up in the body but not this one. You can not experience built up toxicity from using our silver through the body wash, mouth rinse, rose water or healing spray.
How To Use: Wash your face with my OG Oil Cleanser or Oil to Milk Cleanser. Spray Rose Water on your face and let soak into your skin. Follow with Ageless Serum, Beauty Oil or Rose Gold Moisturizer. Or add equal parts to Detox Mask or Cleansing Clay and apply to skin.
Ingredients: Structured Water, Organic Rose Damascena.
*Option to add Silver
*This is not medical advice. This information is not meant to diagnose, cure or replace medical advice. Use at your own discretion or at the recommendation of your healthcare practitioner. All rights reserved UCC 1-308.