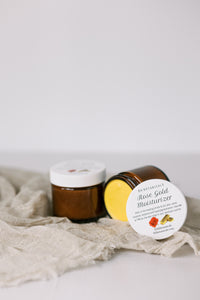 Named after its beautiful light gold color and rose infused benefits. Every ingredient is meticulously chosen to adapt to all skin issues. From oily to dry, acne prone and even rosacea, psoriasis and hyperpigmentation, my moisturizer covers it all. From the organic oils and the essential oils used, it is formulated to be beneficial all skin conditions and hydrate the skin.
The oils are high in B and E vitamins, antioxidants and naturally contain 8 SPF to protect you during all seasons. There is no added SPF only what is naturally occurring in the oils.
The essential oils used are targeted for preventing and reducing break outs. This may prevent them from occurring and may reduce the amount when you do. Break outs may be smaller and less frequent!
Uses: Great as a heavier night time face cream but can also be used during the day. Combine this with our black lava salt facial scrub, cleanser and rose water toner for beautiful, hydrated, glowing skin!
Ingredients: Avocado Oil*,  Raw Shea Butter*, Rosehip Oil*, Sea Buckthorn Oil*, Apricot Oil*, Marula Oil*, Wild Harvested Jojoba Oil, Calendula*, Sweet Almond Oil*, Wild Harvested Rose Oil, Frankincense Oil*, Lavender Oil*.
*This is not medical advice. This information is not meant to diagnose, cure or replace medical advice. Use at your own discretion or at the recommendation of your healthcare practitioner. All rights reserved UCC 1-308.