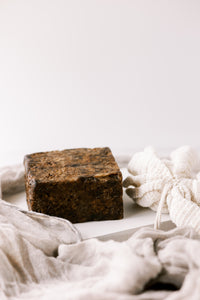 BH African Black Soap may be beneficial for eczema, dry skin, acne and so much more. A favorite of many! For reviews check out the Black Soap highlight on instagram.
The African Black Soap can also be used on the scalp once a month to cleanse and scrub away any excess oils. Used for thousands of years throughout the world our African Black Soap has benefits including exfoliating, cleansing and may contain healing properties. See for yourself why this is a BH favorite!
This soap is not recommended for daily washing on the face as it can be too drying for the skin. It can be used as a deep clean once or twice a month followed by oil cleansing and layering serums.
*This is not medical advice. This information is not meant to diagnose, cure or replace medical advice. Use at your own discretion or at the recommendation of your healthcare practitioner. All rights reserved UCC 1-308.