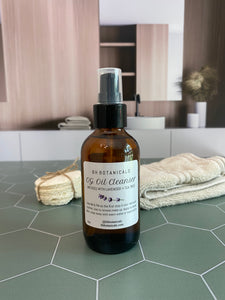 Made with organic carrier and essential oils to clean and remove dirt from the day. Great for removing make up! Good for acne prone, aging, dry, oily and combination skin. 
Using oils on oily skin helps to balance your bodies natural production of oils. Most often people experience oily skin because products, water, your environment, diet etc is drying out your skin. Your body compensates by overproducing oils which can contribute to breakouts. By supplying your skin with necessary hydration it no longer feels the need to produce as much oil. 
Use as the first step in your skincare routine. To double cleanse apply with warm wash cloth rinse and apply again.
Ingredients: Wild Harvested Jojoba Oil, Organic Avocado Oil, Organic Lavender Oil, Organic Tea Tree Oil.
4oz

*This is not medical advice. This information is not meant to diagnose, cure or replace medical advice. Use at your own discretion or at the recommendation of your healthcare practitioner. All rights reserved UCC 1-308.