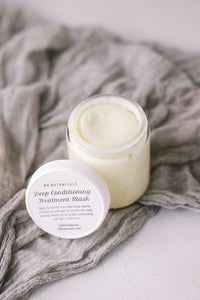 The deep conditioning mask is good for oily hair. Our scalp tends to overproduce oil to combat dryness from products you may be using. Remember drying agents only cause more oils to be produced. Don't be afraid to use oils in your hair! Oil is our bodies best friend, by nourishing your scalp with organic nutrient dense oils you will see changes with just one use.
Uses - dry scalp, eczema, psoriasis, dermatitis and other scalp conditions. Use if hair is frequently knotty and tangled. Deep conditioning will fix dry and knotty hair by softening from root to tip. The organic oils used will hydrate and moisturize with their high omega 3 content. The hair mask is also good for stimulating hair growth, as the essential oils used are formulated specifically for growth.
How To Use: The mask is best used as a deep conditioning treatment mask to nourish the hair and scalp for an extended period of time. I recommend leaving in for a minimum of 30 minutes prior to showering. The mask can be left in for up to 24 hours for the maximum benefit. This will leave your hair nourished to heal breakage, damage, dry and brittle hair. 
The hair mask can also be used as a way to tame fly aways and give your hair a soft little scrunch. Apply a small amount to the palm of your hand, rub between your hands and massage into your hair/scalp for your desired styling.
When washing out you may need to double shampoo. Do this by shampooing once, rinse out thoroughly and shampoo again. Use little conditioner, if needed.
What is the difference between the hair oil and the hair mask?
The hair mask is better for a deep conditioning treatment to heal the scalp and deeply hydrate the hair. The hair mask should be used 2-4x a month. The hair oil is better for more daily use to keep your hair soft and growing long. The hair oil is also better for styling.
Ingredients: Unrefined Shea Butter*, Wild Harvested Jojoba Oil, Argan Oil*, Organic Avocado Oil, Organic Hexane Free Castor Oil, Organic Peppermint, Wild Harvested Tea Tree, Organic Lavender, Organic Rosemary, Wild Harvested Thyme.
*-Organic
*This is not medical advice. This information is not meant to diagnose, cure or replace medical advice. Use at your own discretion or at the recommendation of your healthcare practitioner. All rights reserved UCC 1-308.