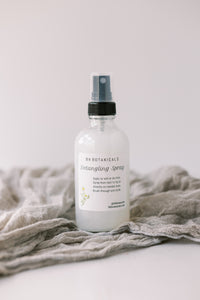 Great for all hair types! For fine hair use very little to start to avoid weighing hair down. For thick or damaged hair use as many sprays as needed. Doubles as a leave in conditioner. 
Apply a few sprays to desired area and brush through. Apply again if necessary. This product is unscented and good for children of all ages. Shake before use if product separates. Safe for use on young children.
Ingredients: Distilled Water, Organic Coconut Oil, Organic Pine Extract, Organic Alfalfa Extract, Organic Chamomile Flower Extract, Organic Echinacea Flower Extract, Organic Nettle Leaf Extract, Organic Clover Flower Extract, Horse Tail Extract, Beeswax, Organic Olive Oil, Organic Flax Seed Oil, Pumpkin Seed Oil, Sunflower Seed Oil, Xanthan Gum, Apple Cider Vinegar.
*This product is unscented and does not contain any essential oils.
4oz
*This is not medical advice. This information is not meant to diagnose, cure or replace medical advice. Use at your own discretion or at the recommendation of your healthcare practitioner. All rights reserved UCC 1-308.