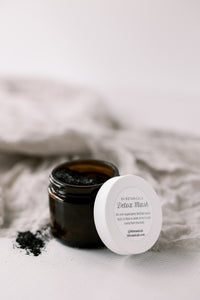 Formulated with activated charcoal and bentonite clay to remove blackheads deep in pores. Bentonite clay's adsorbent power is great for treating acne breakouts and oily skin. The clay can help remove sebum, or excess oils, from the skin's surface, and it may also have a calming effect on inflamed breakouts. This can help to prevent scaring, breakouts and infection of an active breakout. Bentonite clay and activated charcoal are great binders for heavy metals and other toxins. Since we are exposed to different metals and toxins every day due to pollutants and other environmental toxicities one of the most beneficial ways of removing toxins is through our bodies largest organ, the skin.
How To Use: Mix equal parts face mask with distilled, reverse osmosis or kangen water. Apply to face, neck, chest or any part of the body and allow to sit for 15-20 minutes before washing away. Use weekly or when necessary during break outs. Apply a dime size amount in your palm and mix with oil cleanser for an exfoliating cleanser.
Use to detox armpits by mixing with equal parts ACV and apply under the arms. Allow to sit for 15-20 minutes before washing away. This is a great detox to use before switching to natural deodorant. Use 3x a week until you feel your pits have been detoxed. You can continue this once a week to keep your lymphatic system free of toxins.

The detox mask can also be used to detox enzymes from bug bites that make them itchy and irritated. By removing the toxins in the bug bite your skin will be less inflamed and itching will be no more! Mix with ACV or distilled water and leave for 20 minutes or more before washing away. Apply directly to affected area. Once removing, follow with healing spray to further reduce inflammation and leave skin hydrated and replenished.
It is important to use pure water when using a detox mask because your intention is to remove impurities and dirt. Distilled water is the best option because it does not contain any synthetic mineral additives.

Recommended pairing - Use the black lava salt facial scrub to remove the face mask for extra benefits and pore cleansing.
2oz