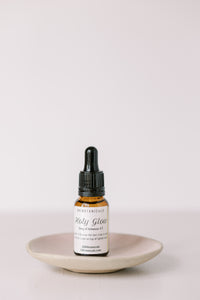 This incredible blend of organic oils is formulated to be good for skin irritations, inflammation, signs of aging and hydrate the skin. The holy glow is my heaviest oil, great for night time use. Apply on top of all other oils. Remember to apply lightest to heaviest.
Recommending Pairing: Oil to Milk Cleanser, Rose Water Toner with Silver
Good For: Dry Skin, Sensitive Skin, Acne Prone Skin, Aging Skin
Ingredients: Organic Marula Oil, Organic Baobab Oil, Meadowfoam Seed Oil, Organic Pomegranate Oil, Wild Harvested Jojoba Oil, Hemp Oil, Organic Helichyrsium, Organic Sandalwood, Organic Palmarosa, Organic Lavender Oil.
*This is not medical advice. This information is not meant to diagnose, cure or replace medical advice. Use at your own discretion or at the recommendation of your healthcare practitioner. All rights reserved UCC 1-308.