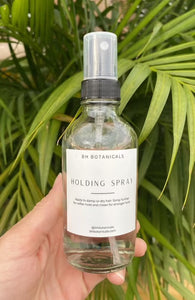 The organic hair spray you have all been waiting for! It is made with organic ingredients and herbs. It does not contain any aerosols, chemicals or harmful preservatives. Our hair spray is formulated with natural herbs to help strengthen hair and contribute to growth all while holding your style all day long!
This product is best applied to dry hair for a better hold. For a more firm hold spray close to the hair. For a looser, softer hold, spray further from hair. The hair spray is easily brushed out to restyle time and time again. The hold is strong but not hard.
Benefits:
· Non toxic, organic formula with herbs to protect hair
· Soft but firm hold provides structure without flakes
· Eco friendly glass packaging to protect ingredient integrity
· Always 100% plant based
Does Not Contain:
✕ Parabens
✕ SLS / SLES
✕ GMOs
✕ Petroleum
✕ Phthalates
✕ Synthetic Fragrance
✕ PEGs, PPGs & BGs
✕ Artificial Colors
Ingredients: Ethyl Alcohol, Acacia Gum Extract, Organic Chamomile, Organic Echinacea, Organic Nettle Leaf,  Pine Extract, Organic Clover Flower, Organic Olive Oil, Organic Pumpkin Seed Oil, Organic Dandelion Extract.
The refill does not come with a spray applicator or bottle to fill. Please purchase a bottle separately.