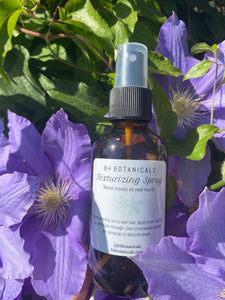 If you want fun, volumized beach curls when you're not at the beach, this is your product! Unlike commercial curling and texturizing sprays BH Botanicals Texturizing Hair Spray is formulated with SEA SALT as its main ingredient to supply minerals to your hair and scalp.
How To Use: Spray the Texturizing Hair Spray to wet hair from root to tip and brush through. After brushing, flip your hair over and scrunch it with your towel. This is best to do when your hair is still sopping wet. You will have the best results this way. Applying to the root/follicles of the hair helps to create lift and volume. Can also be applied to dry hair. To refresh hair, spray from root to tip, flip hair and scrunch with towel.
Fresh Spring scent is a blend of rosemary, lemongrass and eucalyptus.
Floral Bliss - Lavender & Geranium
Citrus Squeeze - Lemon, Sweet Orange, Grapefruit
Shake well before each use.
4oz
*This is not medical advice. This information is not meant to diagnose, cure or replace medical advice. Use at your own discretion or at the recommendation of your healthcare practitioner. All rights reserved UCC 1-308.