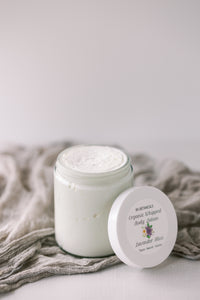 The Whipped Body Lotion is one of BH's original products. See for yourself why this OG product is one of our top sellers for years!
The organic body lotion is great for inflammation in all skin conditions such as eczema, psoriasis and irritations. It helps to moisturize dry skin leaving your skin feeling soft and hydrated. It is safe to be used on children.
Coconut oil helps to hydrate the skin while shea butter helps to soften and provide a protective layer that helps prevent dry skin before it happens. 
Why is our lotion better?
Our shea butter is RAW! We do not heat treat/melt the shea butter. Heating shea butter tends to denature the butter which in turn loses many of its beneficial compounds. By not heating the shea butter we preserve all of the incredible benefits of the raw butter as it comes from nature.
YEAR ROUND SCENT: LAVENDER BLISS
NOW AVAILABLE: 9OZ & 16OZ UNSCENTED
SEASONAL: WINTER SPICE
Ingredients: Coconut Oil*, Shea Butter*, Arrowroot Powder, Essential Oils*.
*Organic

Lavender Bliss - Lavender, Chamomile
- Calming blend of relaxing herbal and floral aroma
Winter Spice - Frankincense, Eucalyptus, Wintergreen, Cinnamon
- Warm blend of spices with an earthy minty aroma
Unscented - No Essential Oils
Storage - If you live in a warm climate, or during the summer months, I recommend storing in a cool, dry area or in the fridge to preserve shelf life and prevent separation. Storing in the fridge can extend shelf life from 12 months to up to 18 months.
*This is not medical advice. This information is not meant to diagnose, cure or replace medical advice. Use at your own discretion or at the recommendation of your healthcare practitioner. All rights reserved UCC 1-308.