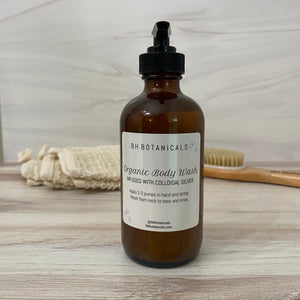 INFUSED WITH COLLOIDAL SILVER
This body wash is made with patented coated colloidal silver which has powerful anti bacterial, anti viral, anti microbial and anti pathogenic properties. Made with 100% organic oils this BH body wash is also great for acne prone skin, dry skin, eczema and psoriasis. Good for use in private areas as opposed to bar soap because of bar soaps high pH level.
BENEFITS OF COATED COLLOIDAL SILVER
*SILVER IS NOT A HEAVY METAL - It is a precious metal. THIS SILVER does not build up and cause toxicity to the body. Most colloidal silvers on the market can cause antibiotic like resistance and build up in the body but not this one. You can not experience built up toxicity from using our silver through the body wash, mouth rinse or healing spray.
Formulated with an organic blend of oils to leave skin hydrated and clean! Most body washes can be irritating to the skin, cause dryness and redness. We have combated this by adding aloe vera that is soothing, hydrating and healing. If you have not found a body wash you love, give our 8oz a try and you'll never go back!
Scents -
SUMMER BREEZE - Grapefruit*, Lime*, Lavender*, Marjoram*
**LIMITED EDITION**
Soothing Herb - Lavender*, Chamomile, Calendula* in Sweet Almond Oil*
Lemon Lavender - Lemon*, Lavender*
Orange Bergamot - Orange*, Bergamot*
Peppermint - Peppermint*
Lavender Patchouli - Lavender*, Patchouli*
Always scented ONLY with essential oils. NO fragrance oils ever.
* - Organic, ‣ - Wild Harvested
Ingredients: Saponified Organic Coconut and Organic Olive Oil, Organic Argan Oil, Organic Jojoba Oil, Organic Hemp Oil, Coated Colloidal Silver, Aloe Vera, Organic Vegetable Glycerin, Organic Blend of Essential Oils.
*This is not medical advice. This information is not meant to diagnose, cure or replace medical advice. Use at your own discretion or at the recommendation of your healthcare practitioner. All rights reserved UCC 1-308.