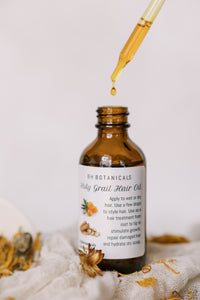 **Hawaiian Flower, and Vanilla Lavender Scents will be discontinued**
SKINCARE FOR YOUR SCALP
This blend is one of my absolute favorites. The oils and herbs chosen to be in this blend are so special to me because I know how potent they are and the powerful things they can do for our hair and our bodies. This special formula is designed to stimulate hair growth, soften your hair from root to tip and leave your hair looking shiny and beautiful.
Can be used as a beard oil! Perfect for the man in your life or for yourself. We offer masculine scents including citrus squeeze and orange bergamot.
Benefits: Soften and moisturize hair. Volumize curls. Stimulates hair growth and helps to prevent loss and thinning. Creates thicker, fuller hair. Texturizes hair. 
How To Use: The hair oil can be used any time of day, AM or PM. For use before shower, apply a small amount to the palm of your hand and massage into your hair using a little bit to start. Allow to soak into the scalp for at least 30 minutes. For use at night, apply to your roots to the ends of your hair. Overnight treatments can be washed out easily upon rising with shampoo and light conditioner. Use after shower by applying a few drops to your palm, massage between your hands and apply softly to ends, midsection and roots last. This will ensure roots are not oily.
*For fine hair - use double or triple shampoo method when rinsing out the hair oil.

Ingredients: Seabuck Thorn Oil*, Castor Oil*, Argan Oil, Wild Harvested Jojoba Oil, Burr Oil*, Sweet Almond Oil*, Organic Blend of Essential Oils.
Scents
SUMMER BREEZE - Lavender*, Lime*, Grapefruit*, Marjoram*
Lavender - Lavender Oil*
Patchouli Rose - Geranium*,  Patchouli*
Fresh Spring - Eucalyptus*, Lemongrass*, Rosemary*
Citrus Squeeze - Sweet Orange*, Grapefruit*, Lemon*
Orange Bergamot - Orange*, Bergamot*
Lavender Sandalwood - Lavender*, West Indian Sandalwood*
Soothing Herb - Herbal Blend of Organic Chamomile, Organic Lavender, Calendula
Jasmine Fields - Wild Harvested Jasmine Sambac
Frangipani - Wild Harvest Plumeria Absolute (Hawaiian Flower) 🌺 
Vanilla Lavender - Vanilla Absolute Extract*, Lavender*
*Price varies based upon scent because we only use the highest quality essential oils
2oz