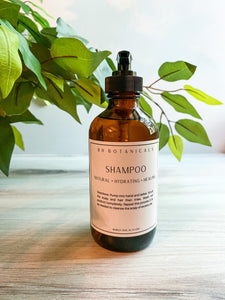 The shampoo that cleans your hair without any harsh additives, fragrances or endocrine disrupting ingredients. If you're looking for a shampoo to help stimulate hair growth and thickness, here it is! The shampoo and conditioner are formulated to leave your hair clean, light weight and return to its natural curls and shine. 
What type of hair is this good for?
Every. My shampoo and conditioner work well with all types of hair and scalp issues. Dry scalp, itchy scalp, dandruff, eczema, stimulate hair growth for length and thickness. It may also help to balance and prevent oily hair.
Shampoo and Conditioner are SAFE for color treated hair and extensions.
How To Use: If you are hair training, wash your hair only once a week or are switching from a commercial brand, shampoo 2-3x times before conditioning. This helps remove dirt and oils built up from the week. When switching from a commercial brand with fillers your hair may need some time to adjust. If you go through a detox process this is because my shampoo and stripping your hair of all of the chemical build up. Wash thoroughly.
Ingredients: Coco Glucoside, Potassium Cococate, Pine Extract*, Alfalfa Extract*, Chamomile Flower Extract*, Echinacea Flower Extract*, Nettle Leaf Extract*, Clover Flower Extract*, Green Tea Leaf Extract*, Olive Oil*, Horse Tail Extract, Glycerin*, Citric Acid*, Lavender Oil*, Bergamot Oil, Rose Geranium Oil*.
- Gluten Free
- Sulfate Free