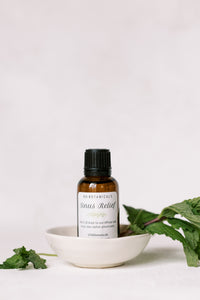 Organic blend of camphor, eucalyptus, peppermint and wintergreen which may relieve sinus congestion. Add desired amount of drops to your personal diffuser and enjoy the benefits. 
Be cautious when diffusing around pets as these oils can be harmful to their respiratory system in excess. Make sure if they are exposed they have the option to leave the room by leaving the door open.
15ml / .5oz bottle = 300 drops
30ml / 1oz bottle = 600 drops
*Best stored away from light and heat. If stored properly, essential oils will maintain their maximum beneficial properties for many years, with a minimum 5 year shelf life.
*This is not medical advice. This information is not meant to diagnose, cure or replace medical advice. Use at your own discretion or at the recommendation of your healthcare practitioner. All rights reserved UCC 1-308.