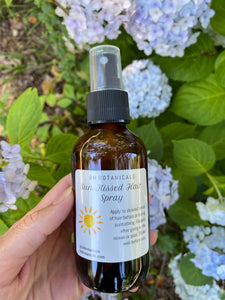 Throw in your beach or pool bag this summer. Travel and bring with you on vacation! This new sun kissed hair lightening spray will help lighten your hair wherever you desire. Save hundreds of dollars on highlight treatments with your new favorite organic summer product.
Apply to desired areas of the hair prior to laying out in the sun to naturally lighten hair. For highlight streaks separate hair and spray directly on that strip. Reapply after multiple swims in the water or every 4 hours.
Use on blonde, brunette and black hair. Safe to use on dyed hair. Safe to use on children as young as 3.
Ingredients: Aloe Vera, Distilled Water, Organic Lemon Oil, Organic Lavender Oil, Chamomile Oil.
SHAKE WELL BEFORE EACH USE
4oz